German Design Award 2019
We are incredibly proud to announce that we for the fifth year running have won a German Design Award.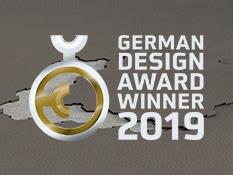 This time with our new carpet tile shape called LockTiles® – and this is the fifth award for LockTiles® in just one year! LockTiles® has been awarded as winner in the category Excellent Product Design – Building & Elements. Read the jury statement here.
One of the most well-respected design competitions in the world
The German Design Award is the top international prize of the German Design Council. Its goal: to discover, present and honour unique design trends. Therefore, every year, top-quality entries from product and communication design are rewarded, all of which are in their own way ground-breaking in the international design landscape.
The official awards ceremony will take place in February 2019 in Frankfurt, Germany.