Flat Woven Classics
Have a look at our new folder with flat woven carpets for the domestic use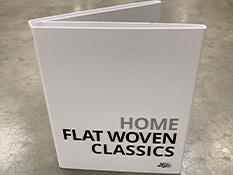 We are pleased to introduce our new folder with our flat woven carpets for the domestic use.
In the new folder, you have an overview of all our flat woven carpets for domestic use and the various available colours:
Mino is a brand new flat woven wall-to-wall carpet, which has a modern weaving structure. It is available in seven Nordic colours.
In this new folder, we also introduce the new colour 280, which is available in almost all of the carpet qualities.