German Brand Award 2019
Fletco Carpets wins two awards for its successful brand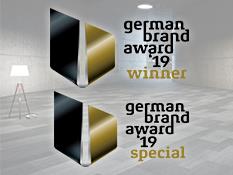 We are proud to announce that Fletco Carpets has won not just one, but two awards at the German Brand Award 2019, because of its successful brand Fletco Carpets.
The following two awards were given to Fletco Carpets:
Winner in the category Excellent Brands – Interior
Special Mention in the category Excellent Brands - Sustainable Brand of the Year
These two awards underline that we have a strong and successful brand within the interior industry, but also that we have an excellent brand, which care about producing sustainable products for our clients.

German Brand Award – the prize for successful brand managementThe German Brand Award is the award for successful brands – it discovers, presents and awards unique brands and brand makers - and not only advances the winners, but also their respective industries.
There are two ways to be nominated: companies that have attracted the attention of the expert committees of the German Design Council for their brand management receive a nomination. In addition, interested parties can actively submit brands/projects for participation. They go through the same review process. In both cases, a nomination confirms the quality of the submission.
The German Brand Awards 2019 is divided into two competitions: Excellent Brands honours the best product and corporate brands in an industry. Excellence in Brand Strategy and Creation recognizes the strongest campaigns, concepts and strategies in individual specialist disciplines. There is also additional categories, in which the nominated products/brands can be submitted.
With more than 1,250 submissions from 19 countries, the German Brand Awards achieved great international resonance in 2019. In both competitions, the jury usually selects 1 gold prize winner per category for top achievements within a sector or discipline. The jury also awards up to ten winners or Special Mentions per category. The Best of Best award is presented in additional categories for excellent performance. The independent expert jury evaluate the submissions according to more criteria, for example: brand distinctiveness, differentiation from the competition, degree of innovation, sustainability and economic success.