German Design Award 2020
We are very proud to be able to announce that we have won a German Design Award for the sixth consecutive year.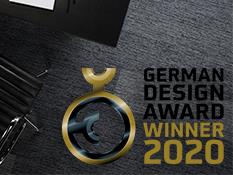 Fletco Carpets has won the German Design Award 2020 in the Excellent Product Design - Building and Elements category with the collection Layers by Sebastian Wrong. This is the third award the collection has won this year.
Statement of the jury: "The multilayer pattern of the carpet tiles is fascinating. The tiles are available in different colours, which can be combined freely, and the edges of the tiles are extremely clean. A good product that meets aesthetic and ecological requirements with equal facility."
One of the most well-respected design competitions in the world
The German Design Award is the top international prize of the German Design Council. Its goal: to discover, present and honour unique design trends. Therefore, every year, top-quality entries from product and communication design are rewarded, all of which are in their own way ground-breaking in the international design landscape.
The official awards ceremony will take place on 7 February 2020 in Frankfurt, Germany.