German Design Award 2021
For the seventh year running, Fletco Carpets is among the winners of the German Design Award.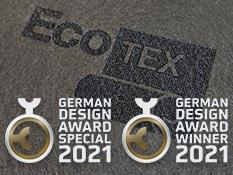 Our eco-friendly carpet backing EcoTEX™ ran away with double honours at the German Design Award 2021, as it was awarded both a Winner and Special Mention prize in the category Excellent Product Design.
EcoTEX™ is a new carpet backing developed to give our customers a more sustainable choice. The felt backing is produced from more than 85% rPET material, equal to min. 50 0.5 L PET bottles per sqm. It is 100% free of bitumen, PVC, latex and other critical substances, has a low VOC emission and is produced by 100% wind energy. EcoTEX™ can be used for broadloom, as it is soft and flexible, and when further processed, it is a perfect backing for carpet tiles as it gets more compact and less flexible.
Read the statement of the jury here ►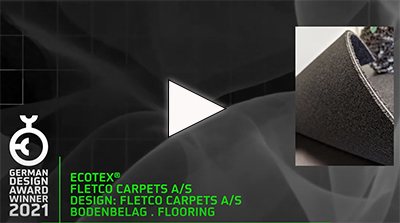 About the award giver
The German Design Awards are the international premier prize of the German Design Council. Their goal is to discover, showcase and recognise unique design trends. As such, high-calibre submissions from the fields of product and communication design – all of which play a pioneering role within the international design landscape in their own way – are honoured every year. The German Design Awards, which were initiated in 2012, are amongst the world's most renowned design awards and enjoy a prestigious reputation that extends well beyond specialist circles.