German Innovation Award 2019
Layers by Sebastian Wrong is a winner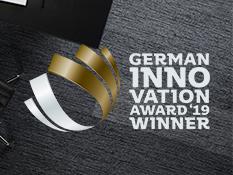 Last autumn we were told that the new carpet tile collection Layers by Sebastian Wrong was nominated for the German Innovation Award 2019. This competition aims to make innovation visible and Layers was nominated due to its innovative achievement.
Now the result of the competition has been released and we are very happy to announce that Layers by Sebastian Wrong is one of the winners in the competition. The carpet tile collection has been awarded a Winner prize in the category Excellence in Business to Consumer – Interior & Living.

About German Innovation Award - the prize that makes innovation visible
The German Innovation Awards honour products and solutions across sectors, which differ from previous solutions mainly by being user-centred and offering added value. They do so because there are innovations in all sectors that shape the future and improve life. Sometimes you see them at first glance – but often not. The German Innovation Awards aim to change that. They make great achievements visible to a wide audience and ensure successful positioning in the market. The jury is made up of independent, interdisciplinary experts from industry, science, institutions and finance. The entries are evaluated based on the criteria: level of innovation, user benefits and efficiency.