German Innovation Award 2020
EcoTEX™ wins great innovation award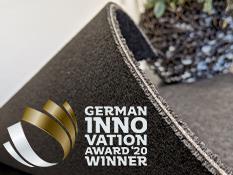 We are very proud to announce that we have won the German Innovation Award 2020 in the Excellence in Business to Business - Building & Elements category with our new eco-friendly and flexible carpet backing EcoTEX™.
About German Innovation Award - the prize that makes innovation visible
The German Innovation Awards honour products and solutions across sectors, which differ from previous solutions mainly by being user-centred and offering added value. They do so because there are innovations in all sectors that shape the future and improve life. Sometimes you see them at first glance – but often not. The German Innovation Awards aim to change that. They make great achievements visible to a wide audience and ensure successful positioning in the market. The jury is made up of independent, interdisciplinary experts from industry, science, institutions and finance. The entries are evaluated based on the criteria: level of innovation, user benefits and efficiency.