Improved TEXtiles® backing
Same good performance, but now even lighter and better for the environment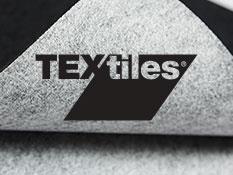 The TEXtiles® backing has become lighter
We constantly seek to improve and optimize our products. During this seek and after several thoroughly tests, we have now improved our TEXtiles® carpet tile backing.
With the newly improved carpet backing, we achieve many advantages which are good for both us and especially the environment and the floor fitter:
A reduced carbon footprint and therefore better for both the climate and environment
Less climate impact during transportation
The floor fitters will lift less than usual
The reduced total mass of the product means less total waste
What does it mean to you?
All our carpet tiles with the TEXtiles® backing uphold the same advantages as earlier. It is good for you and the environment. As always, we recommend using a high-quality Tackifier, when installing the carpet tiles.
Henceforth, all our carpet tiles with the TEXtiles® backing will be produced with the improved and lighter backing.