LockTiles box
Order a copy of the new LockTiles® box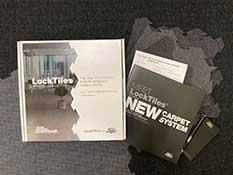 Do you want to get your hands on the new LockTiles® box?
If you are an architect, interior designer, floor fitter etc. the box would be perfect for you, as you can play with the tiles and through that get to understand the concept.
In the box, you'll find one LockTiles®, which has been divided into four pieces. You can put the four pieces together and see:
the original size of a LockTiles® 1:1
how the edges interlock around each other
the joints between the pieces are minimally visible
In addition, you'll find a brochure, a short guide, a small pad and a pen in the box.
About LockTiles®
LockTiles® is a new and unique carpet tile shape with laser cut edges. This means that the edges interlock around each other and always will fit together in all directions – meter for meter, no matter the size of the area.

The LockTiles® guarantee an effective and perfect installation with a completely homogeneous surface making the joints less visible. The new carpet tile is specifically developed for customers, who want the best within flat woven carpet tiles and their many advantages, and simultaneously want the exclusive look of a broadloom. Read more