Description
In the period from 2016 until 2020 the last of three towers has been constructed in the large business and shopping district CityLife in Milan, Italy. The tower is called "Libeskind Tower", as it has been designed by the world-famous architect Daniel Libeskind. Fletco Carpets has delivered 25.000 m2 flat woven LockTiles® for the 175,5-metre high, curved building.
PwC Tower, Il Curvo, Torre Libeskind, Libeskind Tower and the curved one, there are several ways to call this magnificent tower designed by the architect Daniel Libeskind. The building houses the accounting and consulting firm PwC as single tenant at all 34 floors. It is placed near Milan's old town and piles up together with the two other admirable towers: Generali and Allianz.
In connection with the construction of the impressive tower, Fletco Carpets participated with a mock-up room together with many other European floorcovering suppliers. Fletco Carpets presented the flat woven quality Nordic LockTiles® and was the one selected to deliver carpet tiles for the entire building. This is because of the advantages of Nordic installed as LockTiles®, as they give a completely homogeneous surface like a broadloom, where the joints are minimal visible.

During 2019 and 2020 Fletco Carpets has therefore delivered 25.000 m2 dark grey LockTiles® in the quality Nordic, which have been installed on all office floors. The result is impressive: the carpet tiles harmonize well with the rest of the interior in the building and enhance the warm colours of the PwC logo, which are painted on the walls.
This project is made in collaboration with our good Italian business partner, Liuni S.P.A., which has also been responsible for the installation of the LockTiles®.
We invite you to have a look at the spectacular photos of the building below. You can also catch a glimpse of the 30s video, which shows the entire construction of the three towers here: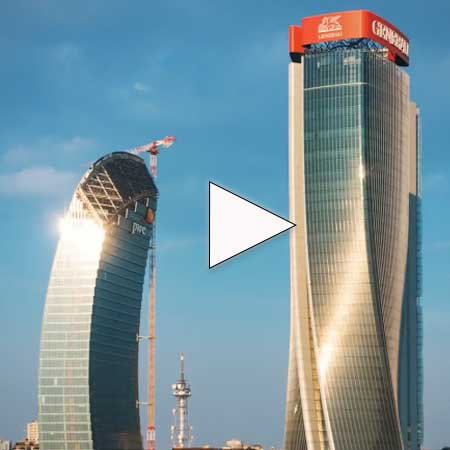 Copyright video and all exterior photos: Alberto Fanelli
Focus on sustainable building materials
The entire CityLife district is equipped with renewable energy sources. There has been a strong interest in selecting environment friendly products. The three towers have therefore been awarded the GOLD level LEED™ pre-certification, and the actual certification is yet to be conducted and confirmed. Fletco Carpets' Nordic LockTiles®, certified Eurofins Gold, contributes positively to the LEED™ certification.

About Nordic LockTiles®
Nordic pile surface is made of 100% PA 6.6 Ascend Ultron®, which ensures a high durability and makes it suitable for extra heavy commercial use. Nordic has an Environmental Product Declarations (EPD) and is Eurofins Indoor Air Comfort Gold and M1 certified, which prove that Nordic has low VOC emissions and therefore contributes to a healthy indoor environment.

The backing on LockTiles® is made of 100% recycled material and is free from bitumen, PVC, latex or other harmful substances. The innovative shape LockTiles® gives, when installed, the exclusive look of a broadloom with minimal visible joints.